10 Most Promising Drone Consultants - 2021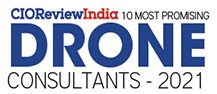 Drones are helping in the flourishing of many sectors like construction, mining, agriculture, utilities etc. Many tasks in these industries can be either labor intensive, expensive or dangerous, so drones provide better results in less cost and time. While using drones for variety of commercial purpose, it is more likely to seek the help of a drone consultant. This is because consultants have a wide range of experience in the field, and can design UAS solutions that fit each organization's specific needs of the organization or client. They will also provide training in flying drones. With the integration of new technologies like AI, AR and IoT usage of drones in commercial purpose had grown tremendously. Lockdown is also another reason for increased commercial usage of drones. In the coming years drone manufacturing and its commercial usage is expected to increase tremendously.
CIOReviewIndia in this issue presents a list of "10 Most Promising Drone Consultants - 2021", who have leveraged their extensive industry expertise and experience in bringing solutions that cater to the unique needs of the clients. Being closely scrutinized by a distinct panel of judges including CEOs, CIOs, CXOs, analysts and the CIOReviewIndia editorial board, we believe that these solutions will help businesses through their significant offerings. We recognize their valuable contributions to the ever-expanding and competitive market and their stability to sustain themselves and emerge as the top contestants through their reliable services.
We present to you CIOTechOutlook 10 Most Promising Drone Consultants - 2021.
10 Most Promising Drone Consultants - 2021
| | |
| --- | --- |
| Aerodyne India Ventures | Offers valuable capabilities for applications such as transmission tower inspection, wind turbines (WTG), solar farms and other critical infrastructures. |
| Alternative Global India | The firm focuses on helping businesses and Governments in the area of Drones and EVs |
| DroneAcharya Aerial Innovations | Focuses on delivering drone solutions or by training drone flight pilots. |
| GSL | Nadir & Oblique Imagery, 3D Mapping, Utility Inspection,Data processing, Aerial image capture, Aerial & mobile lidar, Network survey vehicle etc are some of the products by GSL. |
| HAVELI UAVs | Design and develop UAVs for specialized applications and also Provides UAV services like System Integration, R&D of various range of UAV products and training to students & Professionals. |
| IG DRONES | Provides solutions for drone survey and mapping requirements of clients. |
| Kesowa Infinite Ventures | A service provider in Information Technology & Consulting Domain, catering to the needs of small and medium size businesses in India and abroad. |
| Lawrence & Mayo India | Provides Surveying Instruments, Material Testing Equipments, Scientific Equipments, Analytical Equipments, Vaccum Division, Electrical Chargers, and Roboplasma Solutions |
| Nakshatech | Solutions for all standard tasks in Geospatial services like LiDAR, Photogrammetry, Remote Sensing & Satellite Image Processing, Large scale GIS/ CADD data conversion such as cadstral mapping,... |
| RVS Land Surveyors | Drone-based topographic mapping survey to a larger extent to analyze the survey workings with accurate measurements for effective decision-making strategy. |